DEDICATED TO BETTER FLAGLER COUNTY REAL ESTATE
"CONNECTING BUYERS WITH BUILDERS"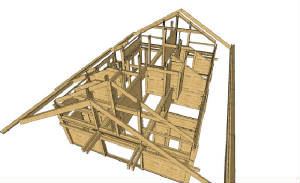 ARE YOU READY FOR A FRESH START
* BRAND NEW CUSTOM HOMES *
3BR/2BA, 2CAR, W/WARRANTY, INCENTIVES, PROFESSIONALLY LANDSCAPED, PAVER DRIVEWAY, SIDEWALKS, DOUBLE PANE-LOW "E" GLASS, 42" KITCHEN CABINETS, GRANITE, MINUTES FROM THE OCEAN, AND MORE !
HERE, IN PALM COAST, FLORIDA
NEW HOMES AT RESALE PRICES
* call or email me with your info for a showing appt. *
JOHN R. CASSATA SR.
9 Harbor Center Drive #15,Palm Coast


AFFILIATED WITH, TRULIA, ZILLOW AND LINKEDIN
PLUS: WEICHERT.COM, LINKEDIN, FACEBOOK, TWITTER, AND 9 OTHER REAL ESTATE WEB SITES TO PROMOTE YOUR VALUABLE PROPERTY
All I can offer you is:
1. 50 years of consultative selling experience in my sales and management career before my retirement.
2. My prior experience as a Licensed Realtor in New York State.
3. The passion that my wife and I have as home owners in Palm Coast, Fl. for this most beautiful and desirable area.
4. Most importantly, a Senior Citizen's honesty, integrity and attention to help you with your personal Real Estate goals.

I'd be honored to help you achieve those goals.
* WHEN YOU CHOOSE ME, YOU CHOOSE MY TEAM *
TEAM: CASSATA / WEICHERT / LAZZANO
"I've drawn on my own experience as a Sales Associate to build a company of real estate professionals who will put the needs of each individual first."– Jim Weichert, President and Founder
WEICHERT REALTORS
HALLMARK PROPERTIES
* CLICK TO MEET SAL NOW ON OUR "ABOUT US PAGE *

LETS LOOK AT PROPERTIES TOGETHER
*ALL OF YOUR QUESTIONS ABOUT HOME BUYING & HOME OWNERSHIP ANSWERED BY "FREDDIE MAC" INCLUDING UP TO DATE MORTGAGE RATES - CLICK HERE!